SF City Clinic is not able to test patients for coronavirus. If you are experiencing respiratory symptoms like cough, fever, or shortness of breath, and are concerned about coronavirus, please contact your primary care provider.
At City Clinic we want to help you have healthy sex AND stay safe from the coronavirus (COVID-19). The infection is real and continues to spread in the community. Breathing, panting, shouts and groans, mouths, lips, eyes, spit, semen, anal play, and shared toys are all ways that COVID-19 can spread.
How can we continue to have a healthy sex life in a COVID-19 era? Here are some tips:
You are your safest sex partner. Masturbate, use toys, take this time to find out what makes you feel good.
If you do have sex with others, have as few partners as possible and pick partners who are practicing "social-distancing" and mask use.
Limiting sex to your main partner(s) or regulars that you live with and/or have sex with – a small circle of people – helps prevent spreading COVID-19.
Consider having one partner at a time, and spacing them apart; for example, stopping sex with one partner and waiting two weeks to see if symptoms develop before having sex with someone new.
Talk with partners about COVID-19 like other safer sex topics (like PrEP, condoms, etc). Ask: do they have COVID-19 symptoms, or have they had symptoms in the last 10 days? Have they been diagnosed with COVID-19?
Before you get down, have a frank and hot conversation with a potential sex partner about what your mutual COVID rules are: Only from behind? Masks on? No kissing? Condoms? Keep it blunt, honest, and descriptive.
Reduce the risk of getting or spreading COVID-19 by avoiding kissing, sexual positions with close face to face contact, and group sex for now
If you usually meet your sex partners online or make a living by having sex, consider taking a break from in-person dates. Video dates or sexting may be options for you.
If you or your partner(s) are feeling sick, skip sex.
Wash up before and after sex!
For in-person sex, which activities are the lowest risk for Covid-19 transmission? Which are highest risk?
Wearing a face covering while having sex with other people will further reduce the risk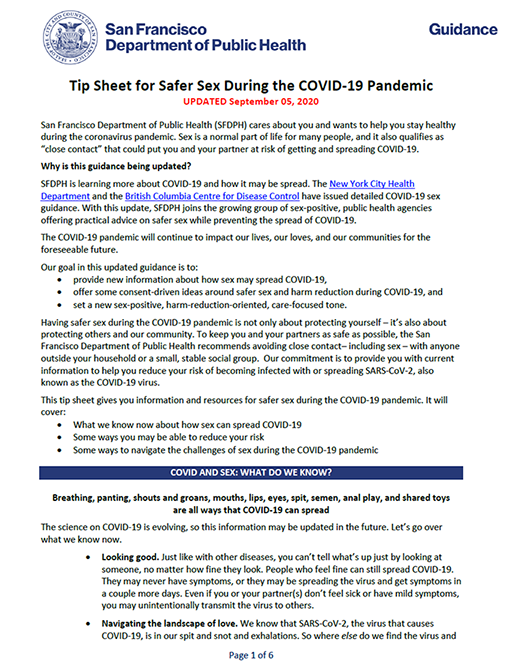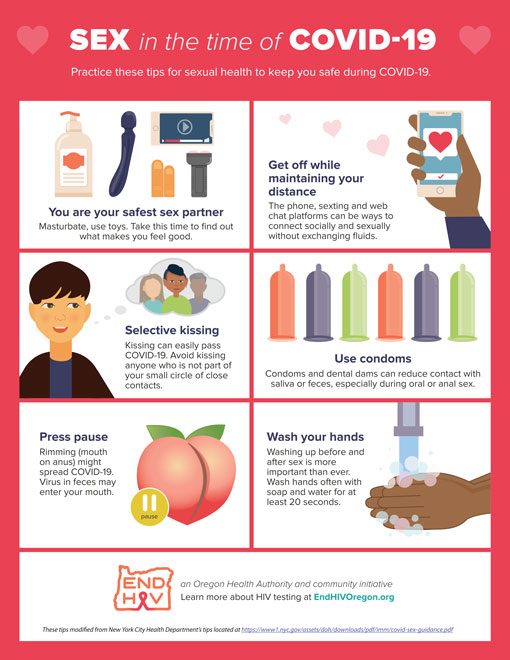 Visit these additional links for more information:
Your donation makes a difference
Your tax-deductible contribution will help us to continue offering low/no-cost care.