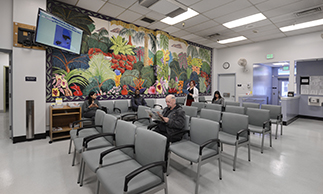 Who can get tested and treated
Our mission at San Francisco City Clinic is to improve our community's sexual health by preventing, diagnosing, and treating HIV and other sexually transmitted diseases (STDs), and preventing unintended pregnancy.
We welcome everyone ages 12 and older, regardless of immigration or insurance status. If you do have insurance, we encourage you to speak with your regular healthcare provider about your sexual-health concerns and getting the vaccines you need.
During your visit, a clinician will determine what tests you need. Not every patient who comes to SF City Clinic will be tested for HIV and other STDs. It depends on your sexual practices and drug use.
Common reasons why people come to SF City Clinic
"I have symptoms that I think might be caused by an STD: Discharge from my penis, butt or vagina; a sore or bump on my genitals or butt; rash on my genitals or body; pain with sex."
"I was diagnosed with an STD and need treatment."
"My sex partner told me they have an STD and I don't know what to do."
"I feel fine but I want to get tested for HIV and STDs to make sure I don't have anything."
"I'm worried I may have been exposed to HIV in the last three days and want post-exposure prophylaxis (PEP) to prevent getting infected with HIV."
"I'm worried I'm at ongoing risk for HIV and want pre-exposure prophylaxis (PrEP) to prevent getting infected with HIV."
"I've heard about PrEP and I wonder if I need it."
"I feel unsafe with my partner."
"I want to discuss how I can prevent getting pregnant. I want contraception."
"I had unprotected sex in the last five days and want emergency contraception (aka "Plan B")."
"I think I'm due for a pap smear but I don't have any insurance."
"I have HIV but I'm not in care and need help getting back into care."
"I have an STD and want help making sure my sex partners get the testing and treatment they need."
"Someone from the health department called me and told me I need to come in."
WALK-IN HOURS
8:00-4:00 M-W-F
1:00-6:00 Tuesday
1:00-4:00 Thursday
Get in touch
If you recently tested positive for HIV or syphilis and have questions, or need help finding HIV care, please contact LINCS. Call 415-487-5520 and leave a confidential message so we can help you get medication and answer any questions.