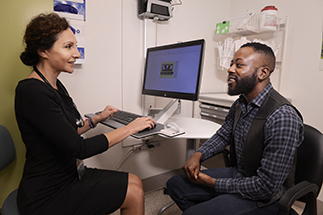 It's possible to have a sexually transmitted disease (STD) and to feel fine—that's because STDs do not always cause symptoms. Because of this, it's important to get tested for STDs if you're sexually active, even if you are feeling OK. However, not everyone needs testing. STD testing recommendations depend on your gender, age, and the gender of your sex partners.
Select from the drop-down options to learn about what STD tests are recommended for you and how often you should get tested. You can also find helpful sexual health resources just for you.
You should always see a healthcare provider if you have symptoms of, or were exposed to, an STD or HIV.
Information selected is not stored and remains completely anonymous.
*All personal information is strictly anonymous.
Males age 26 and over who have sex with men
We recommend that men who have sex with men get tested for HIV and syphilis, gonorrhea, and chlamydia every three months. When you see your healthcare provider, we recommend that you talk to them about your sexual practices. This will help them determine what tests you need. For instance if you are having receptive anal sex (aka bottoming), your butt should be swabbed to make sure you don't have an infection in your rectum (butt). If you have performed oral sex on a partner (that is, had someone else's penis in your mouth), you should have a throat swab to make sure you don't have an infection in your throat.
Testing recommendations depend on your situation, for instance if you or your partner use drugs (like methamphetamine or cocaine), if you're experiencing homelessness, have a history of incarceration, have a history of an STD, do sex work, or if you think your partner may be having other partners.
Helpful resources and information
Information about the STDs you can get from different types of sex. View now
STD testing and treatment options available at San Francisco City Clinic. View now
Tips for talking with your healthcare provider about sensitive sexual health topics. View now
How condoms can protect you from STDs, including HIV. View now
Vaccines that prevent some STDs and can help you stay healthy. View now
How PrEP can reduce the risk of HIV infection if you are HIV negative. View now
If you are living with HIV, staying in care and taking HIV medications will help you and your partners stay healthy. View now
Find HIV and STD testing sites near you at https://gettested.cdc.gov/ or https://aidsvu.org/services/#/
Tips for finding an LGBTQ friendly provider. View now
SF City Clinic offers a variety of LGBTQ health services View now
Resources for gay and bisexual young men. View now
Your donation makes a difference
Your tax-deductible contribution will help us to continue offering low/no-cost care.