HIV Early Care Clinic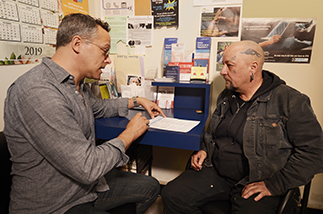 Not taking medication for HIV but want to start?
Uninsured and not clear on how to get your HIV medications paid for?
New to San Francisco and need help finding an HIV healthcare provider?
Our HIV Early Care Clinic can help with these and other issues that sometimes keep people from getting medical care and treatment for HIV. We provide expert HIV medical care and social work assistance for eligible patients. Our experienced team is available to assess eligibility and help with a wide variety of practical needs, including referrals to insurance, housing, food, dental care, and other benefits.
HIV Early Care Clinic is Thursdays 8 a.m. – 11 a.m., by appointment only.
If you are HIV positive and do not currently have a primary medical provider, or have other questions about services we offer, please call 415-487-5511 or send an email.
Other ways to connect to care can be found in the tip sheets below.
HIV Care Options in SF: HIV clinics and private HIV providers in San Francisco, along with information about the insurance coverage they accept and how to get an appointment.
HIV Navigation Options in SF: HIV Navigation programs in San Francisco that can help get people into care.
Get in touch
If you recently tested positive for HIV or syphilis and have questions, or need help finding HIV care, please contact LINCS. Call 415-487-5520 and leave a confidential message so we can help you get medication and answer any questions.