PELVIC EXAMS & PAP SMEARS
Our clinic staff may offer you a pelvic exam to address certain symptoms you may be experiencing, like changes in your discharge, bleeding outside of your period, or pain during sex.
A pelvic exam is a check-up of the vulva, vagina, and cervix (opening of the uterus, inside the vagina). During the exam, we may put a metal or plastic speculum inside your vagina to get a better look at any symptoms you may be having.
A Pap smear may also be done during a pelvic exam.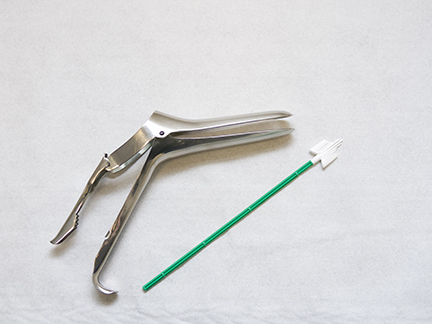 We can check for certain infections, like bacterial vaginosis (BV) or yeast, and some sexually transmitted diseases (STDs), like gonorrhea, chlamydia, and trichomoniasis (aka "trich").
If you need a Pap smear, it will be done during a pelvic exam.
Sometimes you may get STD testing without a pelvic exam by giving a urine sample or having a vaginal swab collected to test for gonorrhea, chlamydia, and trich.
If you get a pelvic exam during a clinic visit, ask what tests are being done so you know.
A "Pap smear" (also called "Pap test" or "Papanicolau") is a test looking for abnormal cells on the cervix that are usually caused by an infection of human papillomavirus (HPV). These abnormal cells might develop into cervical cancer one day if they are left untreated or do not get better on their own.
A Pap smear does not look for other cancers (like uterine or ovarian).
A Pap smear does not test for STDs (but you may get separate STD tests at the same time and we can always test for STDs without a Pap).
A Pap smear is not done every time you have a pelvic exam.
You will undress from the waist down, and lie down on the exam table.
The clinician will place a speculum in your vagina - you may feel pressure during this part but it shouldn't hurt.
The clinician may need to move the speculum around a little bit to get a good view of your cervix.
Using a small brush, the clinician will gently obtain a sample of cells from the cervix. You may get a tiny cramp or pinch during this part.
Your sample will be put in a container and sent to the lab for processing.
You may get a tiny bit of vaginal bleeding afterwards, which should stop on its own.
Current recommendations in the U.S. are to start getting Pap smears at age 21 (regardless of what age you started having sex).
We recommend Pap smears every three years ¹.
Some other clinics do Pap smears every three years until the age of 30, and then do Pap smears with HPV tests every five years after the age of 30.
Current guidelines say to stop doing Pap smears sometime after age 65 (¹), but you should talk with a healthcare provider to figure out the best age for you to stop getting this test.
If you had a hysterectomy (removal of uterus), you may not need Pap smears anymore. Please talk to a healthcare provider about your specific situation.
Old guidelines recommended Pap smears every year but further research has shown we don't need to do that.
Cervical cancer grows very slowly, over many years. It is usually found in people who never had a Pap smear or have not had one in five years or more.
Many of the abnormal cells we find on Pap smears will go away on their own without any treatment in a year or two.
It may do more harm than good to do Pap smears more often than every three years because they can result in:

False positives.
Detection of abnormal cells that would have gone away on their own and would not have developed into cancer.
Anxiety about abnormal results.
Unnecessary treatments, which can cause infections or a weakened cervix.
A few people may need annual Paps, if they are living with HIV, have serious immune system problems (like being on anti-rejection medicines after an organ transplant), or have been treated for cervical cancer.
You don't need a pelvic exam or Pap smear in these situations:
To get most kinds of birth control (IUD insertion definitely requires a pelvic exam).
If you have no symptoms and are not due for a Pap smear.
To get a STD screening when you don't have symptoms. We can do tests on a urine sample or on a vaginal swab
This means we found abnormal cells on your cervix. This does not mean you have cervical cancer.
Abnormal cells are usually due to an infection of HPV (a sexually transmitted disease). Most people who have sex will get HPV at some point. In many cases, these cells go back to normal on their own within about a year or two.
Sometimes the abnormal cells may be more serious, or they may not go away on their own. We'll do some additional testing for you to decide whether or not these cells need to be removed.
As a follow-up to an abnormal Pap smear, you may need one of the following:
Another Pap smear (usually done 12 months later)
A test for HPV (we can't do this test here, so we will either refer you to another clinic or do one of the other options listed here instead)
A colposcopy (a procedure we can do here, or we can refer you to another clinic)
These conditions are not the same as an abnormal Pap test:
San Francisco City Clinic does not do HPV testing. If you were told to get an HPV test to follow up on an abnormal Pap, you can come in to talk to us about your options—we may be able to do another test instead, or we may refer you to another clinic for the HPV test. Some other clinics do HPV testing either at the same time as a Pap smear or to follow up on an abnormal Pap smear.
HPV tests are not done on their own as part of screening for STDs.
HPV tests can only be used on the cervix. They cannot be done on any other body part (including the mouth, vulva, penis, and anus).
Most people will have HPV at some point in their lives!
The Gardasil HPV vaccine is recommended for anyone ages 26 and younger, and is FDA approved up to age 45. Using condoms will also decrease your chances of getting HPV.
If you do not have health insurance or Medi-Cal, you may be able to get the HPV vaccine at San Francisco City Clinic.
If you have insurance or Medi-Cal, your HPV vaccine should be covered by your insurance.
Even if you have had the HPV vaccine, you still need regular Pap smears to check for abnormal cells on the cervix.
If your partner has a penis, there are no Pap tests or HPV tests for them. HPV tests are not available for other body parts besides the cervix.
You can call us, email us, or come in to discuss making an appointment for a Pap smear. Please have the following information available:
Name and date of birth
What insurance you have (you do not have to have insurance, and if you have private insurance, we will refer you to another clinic for a pap smear)
City where you live
The date of your last Pap smear
Whether the results of your last Pap smear were normal or abnormal, and if they were abnormal, whether you got any follow-up
Log in and click on the "Get My Results" button. It usually takes about three weeks to get your Pap smear results. If your result isn't available at three weeks, call us at 415-487-5500.
If your Pap smear is normal, we will not contact you. If your Pap smear is abnormal, we'll call you and/or send you a letter. We'll discuss with you what we should do as follow-up. We may need to refer you to another clinic.
What Our Patients Say...
"I am now happily married and have a brand new baby daughter.
Most importantly, since my diagnosis, I have a renewed sense of self-compassion, self-care, and compassion towards others. I have joy in my life!"
~ SFCC Client
Your donation makes a difference